Elephant Chest





Type
Tools
Durability
N/A
Sounds
Equipped
Renewable
Yes
Stackable
Yes (64)
An elephant chest is an item that can give tamed elephant or mammoths an inventory.
Obtaining
Crafting
Name
Ingredients
Crafting Recipe

Elephant Chest

Wool +
Chests +
Hide
Usage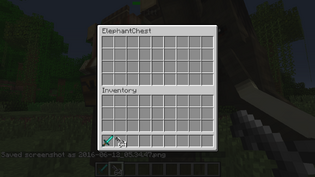 An elephant chest can be used to give a tamed adult elephant or mammoth an inventory, giving it 36 slots of inventory space. When the chest has been equipped, you can access the chest with a shift and right-click.
An elephant or mammoth can carry up to two chests. The chest(s) can be removed by right-clicking on the carrier with shears, killing the elephant/mammoth, placing the elephant or mammoth in a pet amulet, or using a scroll of freedom.
Trivia
Prior to v8.0.0 DEV, elephant chests could be opened with a key; an item which has since been removed.
The elephant chest used to be called "chest set".
Gallery
Items
Raw materials

BigCat Claw • Chitin • Fur • Hide • Reptile Hide • Heart of Darkness •
Heart of Fire • Heart of Undead • Scorpion Sting • Shark Teeth • Unicorn Horn

Food

Raw Crab ( Cooked) • Raw Ostrich ( Cooked) • Raw Rat ( Cooked) •
Raw Turkey ( Cooked) • Egg • Omelet • Rat Burger • Raw Turtle •
Sugar Lump • Turtle Soup

Tools

Builder Hammer • Fish Net • Teleport Staff • Whip • Wyvern Portal Staff

Combat

Bo • Crystal Mount Armor • Fur Armor • Hide Armor • Katana • Nunchaku • Reptile Armor • Sai •
Scorpion Armor • Scorpion Sword • Silver Sword Shark Sword

Manufactured

Bone Amulet • Crafted Saddle • Elephant Chest • Elephant Garment •
Elephant Harness • Elephant Howdah • Essence of Darkness • Essence of Fire • Essence of Light • Essence of Undead • Fairy Amulet • Ghost Amulet •
Kitty Bed • Litter Box • Mammoth Platform • Medallion • Pet Amulet •
Pet Food • Tusks • Sky Amulet • Scroll of Freedom •
Wool Ball • Zebra Record

Multiplayer only
Unused
Removed

Fish Bowl • Horse Armor • Key • Rope
Community content is available under
CC-BY-SA
unless otherwise noted.