Tusks





Type
Tools
Combat
Durability
Wood tusks: 60
Iron tusks: 251
Diamond tusks: 1562
Damage
Wood tusks: 4 ()
Iron tusks: 6 ()
Diamond tusks: 7 ()
Renewable
Yes
Stackable
No
Name
tuskswood
tusksiron
tusksdiamond
Sounds
Equipped

Taken off
Tusks are items and weapons that can be placed on tamed elephants and mammoths.
Obtaining
Crafting
Name
Ingredients
Crafting Recipe
Any Wood Planks +
Lead




Iron Ingots +
Lead




Diamonds +
Lead
Usage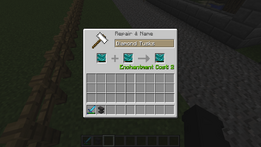 Tusks can be placed on a tamed, adult elephant or mammoth so they can break through blocks. Tusksd can be removed by right-clicking on the elephant or mammoth with shears or a pickaxe.
Unlike other items, tusks can be placed without having to place an elephant harness on the elephant first.
With tusks equipped, elephants and mammoths are able to break most blocks (such as wood planks, fences or grass blocks) that are in their path. Mammoths are more effective at breaking blocks than elephants. Elephants and mammoths will drop tusks upon death if worn, or when a pet amulet or scroll of freedom is used on them.
By default in multiplayer, elephants or mammoths wearing tusks will not destroy blocks. This is to prevent griefing.
Like other tools, tusks will lose durability eventually, and can be repaired with the use of an anvil or crafting table.
Combat
Tusks can deal damage as if they were swords; wood tusks deal the same damage as a wooden sword, iron tusks do the same amount of damage as an iron sword, and diamond tusks deal the same damage as a diamond sword.
Types
There are three different kinds of tusks, from lowest to highest durability:
Wood tusks
Iron tusks
Diamond tusks
Trivia
Tusks were formerly made with ropes, but the recipes have since been replaced with leads.
Gallery
Items
Raw materials

BigCat Claw • Chitin • Fur • Hide • Reptile Hide • Heart of Darkness •
Heart of Fire • Heart of Undead • Scorpion Sting • Shark Teeth • Unicorn Horn

Food

Raw Crab ( Cooked) • Raw Ostrich ( Cooked) • Raw Rat ( Cooked) •
Raw Turkey ( Cooked) • Egg • Omelet • Rat Burger • Raw Turtle •
Sugar Lump • Turtle Soup

Tools

Builder Hammer • Fish Net • Teleport Staff • Whip • Wyvern Portal Staff

Combat

Bo • Crystal Mount Armor • Fur Armor • Hide Armor • Katana • Nunchaku • Reptile Armor • Sai •
Scorpion Armor • Scorpion Sword • Silver Sword Shark Sword

Manufactured

Bone Amulet • Crafted Saddle • Elephant Chest • Elephant Garment •
Elephant Harness • Elephant Howdah • Essence of Darkness • Essence of Fire • Essence of Light • Essence of Undead • Fairy Amulet • Ghost Amulet •
Kitty Bed • Litter Box • Mammoth Platform • Medallion • Pet Amulet •
Pet Food • Tusks • Sky Amulet • Scroll of Freedom •
Wool Ball • Zebra Record

Multiplayer only
Unused
Removed

Fish Bowl • Horse Armor • Key • Rope
Community content is available under
CC-BY-SA
unless otherwise noted.