Uh oh.
My world seems to be crashing every time i open it now. It was working, crashed, and now it crashes when ever i open it. And i think it is because of the Kitties :c Will either try whatever i can to fix it or ill have to start over :c
A Better Look.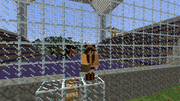 As you can see here, It is my own Personal Wyver Lair. A Better look at it, kind of. My Wyverns Wonder around now on the grass from their beloved Realm. You can kind of see some of them. I have all the eggs, but not all are hatched, because the Arctic, Cave, Mountain, and Sea ones are kind of glitching and wont hatch >:(!!!
Getting There.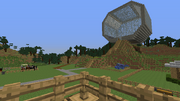 Oh lookie.... The Personal Wyvern Lair, Like a BIG TANK! along side the Dragon cave, (Which have Dragons in it, which come from the Dragon Mount Mod, which you can see my blue one laying in a pen :P) And also, The horse pen, which has our beloved horses we all love so much!
Intro.
I love gaming and Minecraft is one of my favorite games to play, love the whole concept, but it tended be so... repetitive and got boring...
but I absolutely love the Mo'creatures Mod. I Play it almost everyday, and hardly ever play Minecraft normally, for it isn't nearly as fun! I also use the Dragon Mount Mod, Which doesn't add a whole lot of n 
ew things, but it adds dragons and adds to the world of creatures! I tend to post some stuff on here about my world and what i've gotten done on it, because its exciting and everybody loves to share exciting things! 
So I think ill keep doing that, Cause it adds more stuff to do and i like to share(:
You can Follow me on Instagram and Twitter: BearyfulFilly
Thx.
My favorite pages
Add links to your favorite pages on the wiki here!
Favorite page #2
Favorite page #3
Community content is available under
CC-BY-SA
unless otherwise noted.